HPDE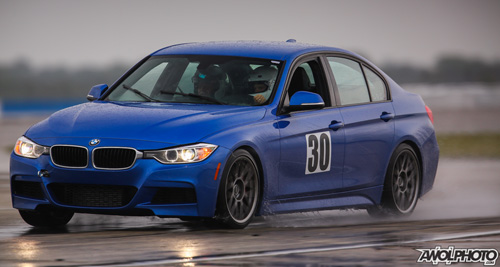 You have always wanted to know what "she could do", but you know the streets and highways are not the place. NASA gives you and your car an easy, safe, and affordable way to get on the track!
No speed limits, no pedestrians, no stoplights, no soccer moms piloting SUV's with a smartphone in one hand and a coffee in the other… but best of all – no tickets. The NASA High Performance Driving Event provides you with an experienced instructor to help guide you through the event, one on one, as you learn how to handle your car at the limit. You set your own goals and only go as fast as you feel comfortable going. Progress as far as you wish in your own car at your own pace, become a safer driver on the street, and have a blast along the way!
NASA HPDE is "the best money you will ever spend on your car."
How?
Basically, all you need is a safe car and a helmet. The car can be bone stock and does not have to be fancy or fast. Students bring everything from Hyundais to Ferraris. As a general rule, most late model closed top vehicles in good condition will pass technical inspection. Some convertibles with factory installed rollover protection devices or aftermarket roll bars are also allowed. As a general rule, an "unmodified" factory vehicle will usually pass tech without any problems, but cars that have been modified (seats, roll bars, belts, etc) must conform to the preparation rules.
Who?
Anyone who is a member of NASA may participate. Minimum age is 18 (or under 18 with parental consent). Many different types of people enter our events. The number of women who are taking our courses has steadily increased and most are very eager to enhance their driving skills. A lot of husbands and wives also team up and use only one car which makes things more convenient. There are many teenagers and young adults who receive a school entry compliments of their parents who want to teach their kids to be safer drivers. Note- All passengers must be at least 18 years old. Please see the CCR.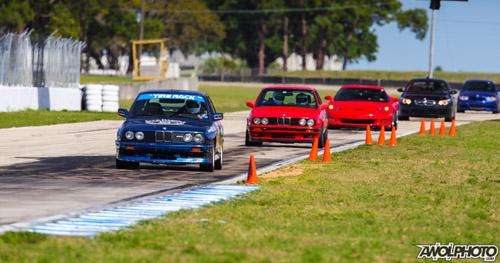 Group Levels:
We have four HPDE groups, which means we run four groups of cars on the track in four track sessions each per day, and classroom sessions in between. Sessions last approximately 20 to 30 minutes, depending upon the event. Run groups are based entirely on driver experience and skill:
Group 1: "Beginner" drivers are those who have driven at zero or very few track days and have never been "signed off" by an instructor for solo track driving. We automatically provide a certified in-car instructor as well as informative classroom discussions for each HPDE1 driver at no extra cost. Passing other cars in Group 1 is only allowed on straights and only after the driver of the lead car signals that it's safe to pass. HPDE1 entries are only for the full weekend by design (i.e. there are no single day HPDE1 entries at NASA FL events), to make sure proper basics are effectively taught and extensively practiced.
Group 2: "Novice Solo" drivers are those who have driven at some track days on at least one track and have been "signed off" to drive solo by an instructor on at least one track. Signing up for Group 2 may require a check ride. Passing other cars in Group 2 is only allowed on straights after the driver of the lead car signals.
Group 3: "Intermediate" drivers are those who have participated in a variety of HPDEs on more than one track and have been "signed off" by an instructor for each track driven. Passing other cars in Group 3 is only allowed after the driver of the lead car signals but may be done anywhere on the track.
Group 4: "Advanced" are those who have significant experience. Passing other cars in Group 4 is allowed without a point-by signal but may be done anywhere on the track.
Driving by Yourself:
Solo-ing: To "go solo" is to have the opportunity to practice the skills and lessons imparted by the NASA curriculum without having an in-car instructor present in the car. Only when a student has demonstrated an acceptable awareness, judgment and car control skill will an instructor allow a student to "solo". How quickly a driver gets "soloed" is purely dependent upon the progress made by the individual driver.
Climbing the HPDE Ladder:
We set certain milestones that much be reached in each HPDE level before advancing. How quickly a driver gets to drive in a higher (i.e. faster paced, with less restricted passing) HPDE level is purely dependent upon the progress made by the individual driver and the desire of the driver to advance. Moving up the ladder usually requires a written recommendation from at least one instructor and a "check ride" with an instructor or designated member of the NASA staff. Generally you will need one of these check rides to move from HPDE2 to HPDE3, then from HPDE3 to HPDE4. After exhibiting sufficient skill and experience in HPDE4 you may be able to enter our competition evaluation program then go racing, go into the Time Trial group, or become a certified HPDE instructor and help us teach the next generation of drivers how to go fast safely and responsibly, after receiving your final check ride. This system has been in place for decades and works great!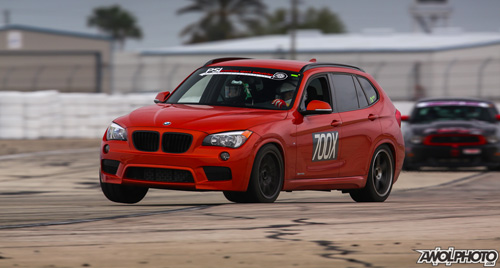 Our Instructors:
Instructors are provided and required for all drivers in Group 1 because they are very effective at relaying all levels of information while showing drivers both the fastest and safest way to get around the track. NASA instructors must attend clinics and follow guidelines to get and keep their certification, and must follow a standardized curriculum. This standardization is the key to keeping NASA events the safest because it assures that all students are following the same rules on the track. Many NASA instructors are employed part-time by professional driving schools and other track organizations. Most trade their services and expertise for track time in Group 4 or the Time Trial group. All instructors are on hand primarily for love of sport, to help you be more safe and go faster and have more fun!
HPDE Pre-Tech Form:
Click here to download and view the HPDE Pre-Tech form. Please arrive at the track with this form filled out by a qualified inspector, and signed.
HPDE Requirements:
-Membership in NASA or a NASA sanctioned club
-Any car in safe operating condition (from Ferrari to Hyundai)
-Mufflers. Different tracks have different sound policies
-Roll bars in convertible autos
-Seat belts in good working order
-State driver's license
-Long sleeve shirt and pants (cotton is great)
-An approved helmet (rentals may be available)
-Knowledge of the Club Codes and Regulations
-At least 18 years of age (16 w/parental consent)
HPDE Articles:
Read what NASA members have said about the HPDE experience…
Rollover Protection (convertibles)
Shifting, Up, Down and Heel Toe