FL Race Licensing
Ready to go racing? We now offer "Competition License Evaluation" (i.e. Comp Eval) entries at nearly all our events. Any Florida Region member who doesn't have a current or recent NASA competition license (provisional or hard card) will need to go through this program – or apply and be granted a Comp Eval waiver & approved for a license based on prior experience – before going racing with us. This program and its prerequisites exist in addition to the national licensing requirements listed in the CCR to make our racing better and safer in Florida.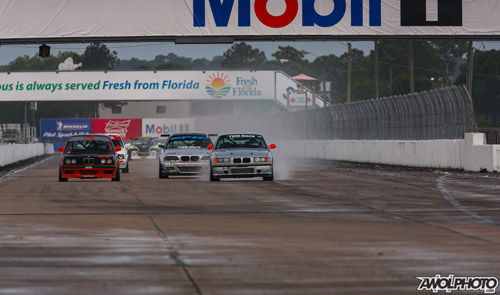 We will offer this program at every weekend for which there is sufficient interest
(tentatively all Sebring dates and most Homestead dates.)
A Comp Eval entry costs the same as a HPDE entry and involves a variety of competition-related activities. Track time for various "race scenario emulation and practice" drills in HPDE4 on Saturday, track time as a rookie in a race group on Sunday, various tests and meetings and discussions with officials and/or a panel of experienced racers, and more.
It's all based on similar programs in other NASA regions, which several of our Officials have gone through and/or helped with over the years.
Get through the weekend with no issues and you'll have your provisional NASA roadracing license as well as one race day on file toward your minimum.
We strongly recommend doing nothing but this on your comp eval weekend (i.e. not instructing or TT'ing) because the more you put into it, the more you get out of it. Note: if we do not get enough Comp Eval entrants for a particular weekend, we will defer until the next event and comp eval entrants will run in HPDE4 for observation instead.
You will need a logbooked/inspected racecar and all the appropriate racing driver safety gear as per the CCR. You will need to file a completed medical form and license applications/payment with our national office several weeks in advance. You will also need to please contact Jim VanderVliet for clearance before signing up for Comp Eval. He will want to see your driving history and any references, in as much detail as possible. He is looking for significant verifiable experience in HPDE with us or a directly equivalent group, particularly at the advanced/passing in corners level. TT experience is definitely good too (generally speaking you will at least need to be TT qualified in terms of experience before you are accepted into our Comp Eval program, see this thread on nasaforums for those minimums.) And if you are coming from another organization or program from which you have a race license but not equivalent seat time, it is likely that we will want you to go through a Comp Eval weekend as well, if not also join us for some HPDE time beforehand. We are looking for "learn to drive fast, then learn to race" experience elsewhere that is equivalent to what a person would gain by climbing NASA's own "ladder of speed" specifically.
This doesn't mean we don't accept licenses from other organizations, or experience with other groups. It means everyone who wants to go racing with us needs to contact Jim with their experience to either be cleared to enter the comp eval program, or get a waiver to skip it and have a competition license issued, before signing up to race. Someone with recent years of equivalent racing experience elsewhere will probably be issued a license automatically… but someone with a 3 day pro school last month and nothing else will probably be asked to do some HPDE weekends first, to get 'em the same type and level of experience as the rest of our drivers. All motorsports experience is worth listing and everyone's driving history is considered on a case-by-case basis.
So, to summarize, it's this easy:
1) Gain equivalent/prior/related/significant/suitable experience on track and study the CCR;
2) Email your driving resume in as much detail as possible to Jim VanderVliet;
3) Complete and return our official competition license written test, if requested;
4) Await further information about comp eval clearance vs provisional approval;
5) Sign up for the next event accordingly;
6) File medical and licensing paperwork with Dave Ho at our national office;
7) Study the CCR again, double check your gear, and make sure your car is ready;
8) Show up at the track and have fun with us!